About The RS232-MDB(PC2MDB) Adapter box
---
Smart cashless payment adapter box for vending machine!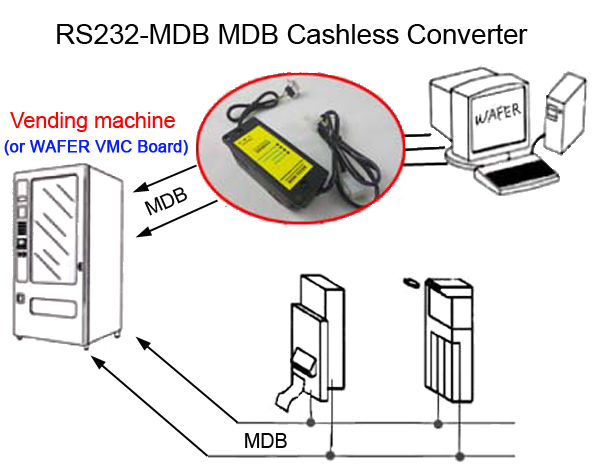 Smart Designed RS232-MDB Adapter Box
The vending industry standard NAMA Multi-Drop Bus (MDB) may now be interfaced a PC to the existing mdb interface vending machine with the RS232-MDB. The RS232-MDB allows PC computer,android maini board, Raspberry pi, RS232 pos and all other RS232 controllers to be connected to the vending machine.Follow WAFERSTAR's quick use guide and send some simple and necessary instructions to realize cashless payment. It's easy to get started and complete the design.
Conforms to all NAMA MDB specification and is compatible with any MDB compliant vending machine. Hardware interface comes with cables,user's guide and user's protocal.
Smart VMC vending machine simulator
---
Smart VMC board with Dex interface for MDB cashless payment development!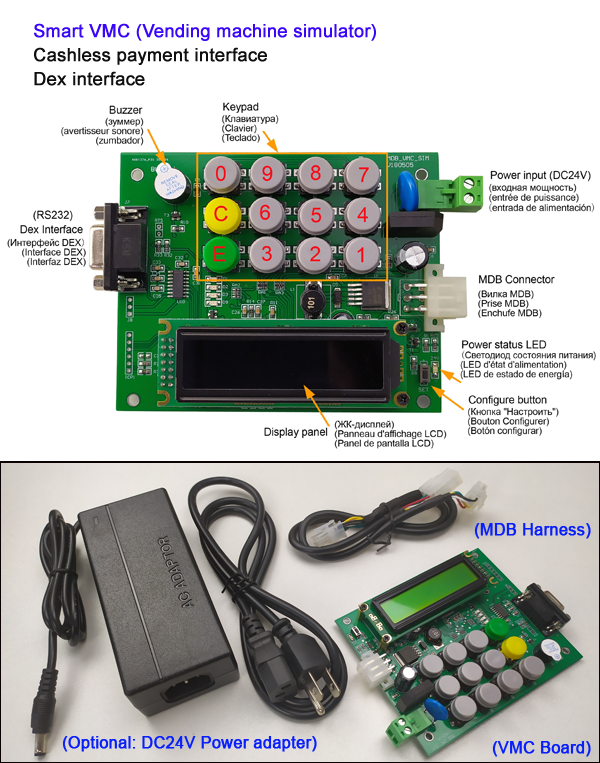 Who will use this board?
1. Develop the vending machine mdb payment interface, including coin acceptor, bill acceptor or cashless payment device. Of couse, your target project must be MDB interface payment.It can also be an assistant for learning DEX interface and developing vending machine data management system.
2.Want to develop the vending machine management system, vending machine management server. For above project ,but you don't have a real vending machine and also that real vending machine is big size and heavy to move to the engineer office
How can we use this vmc board ?
Very simple to use. You just connect your MDB payment device, VMC will detect the mdb device . And you can pay through the mdb payment device and then select the goods, then VMC board will simulate to dispense the goods and end the order processing.
>
20

Brands

Cooperated Brands
>
10000
Mounted Vending machine
RS232-MDB(PC2MDB)'s Main Features
---
Happy to select and use our MDB box. It is very easy to start!
Innovative Design
Easy to start and Simple communication command to realize cashless payment for vending machines.
Good quality in manufacture
We manufactured more than 10,0000 units mdb box for the worldwide market.
Low Pricing
Provide the economical solution for vending machine cashless payment interface development.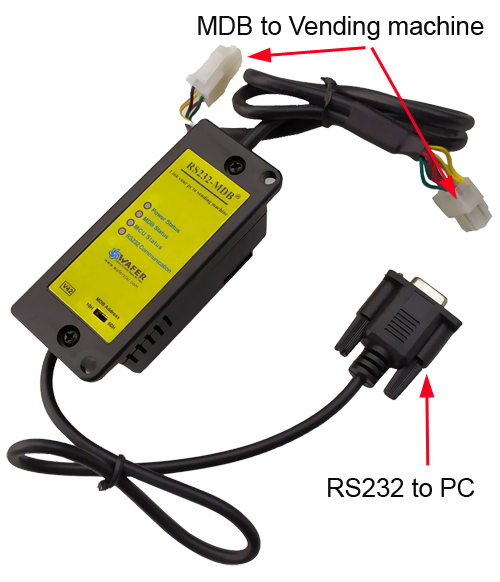 Fully Secured
Provide security and reliability of vending machine payment.
Easy to Use
We provide the simple fast start manual and technical service during your development.
Good service
Very rich MDB technical experience, can provide very complete technical support and remote service on the skype.
We Design, Manufacture and Sale
---
Hot-selling products from WAFERSTAR related to vending machines!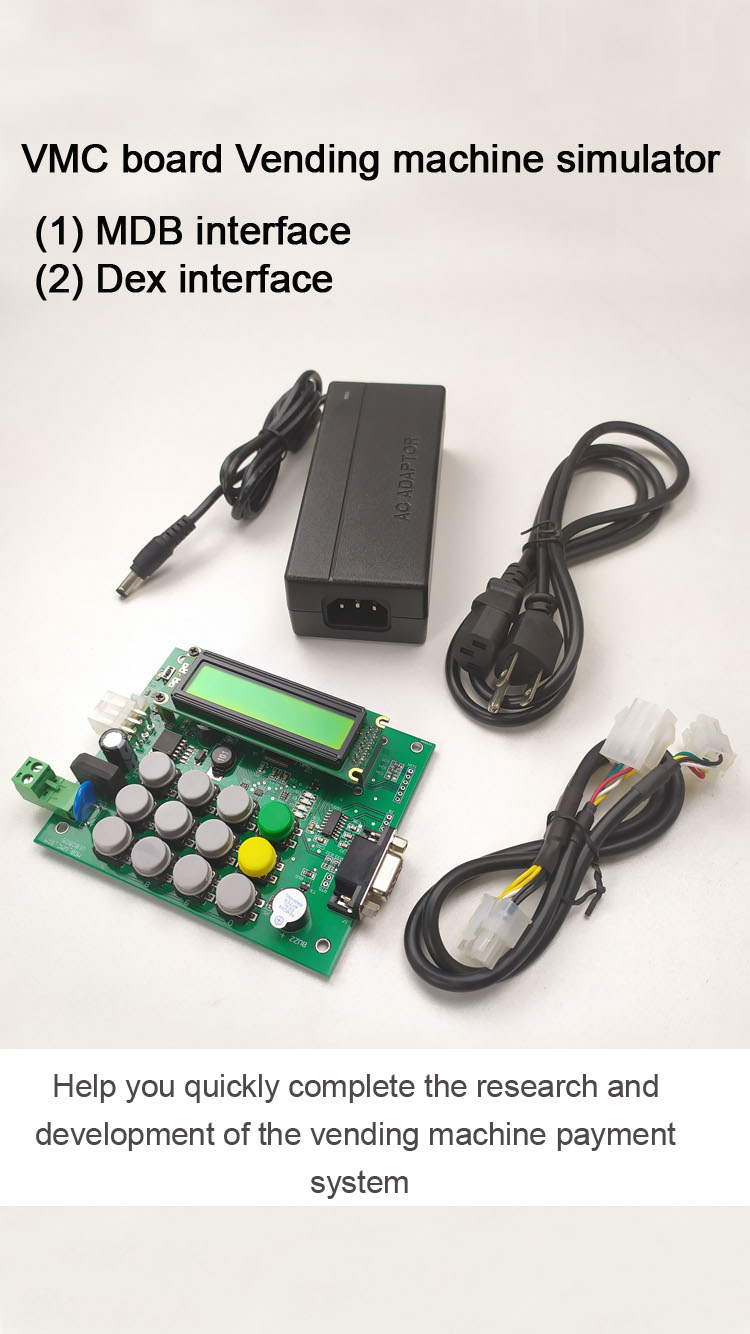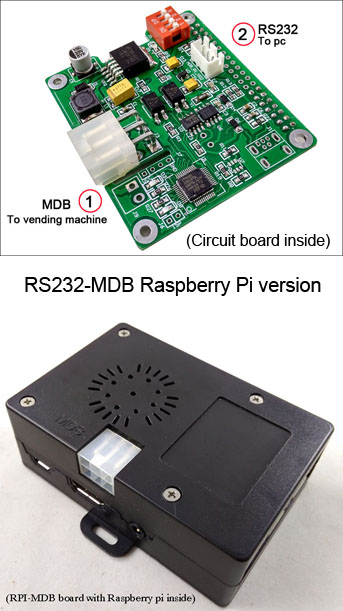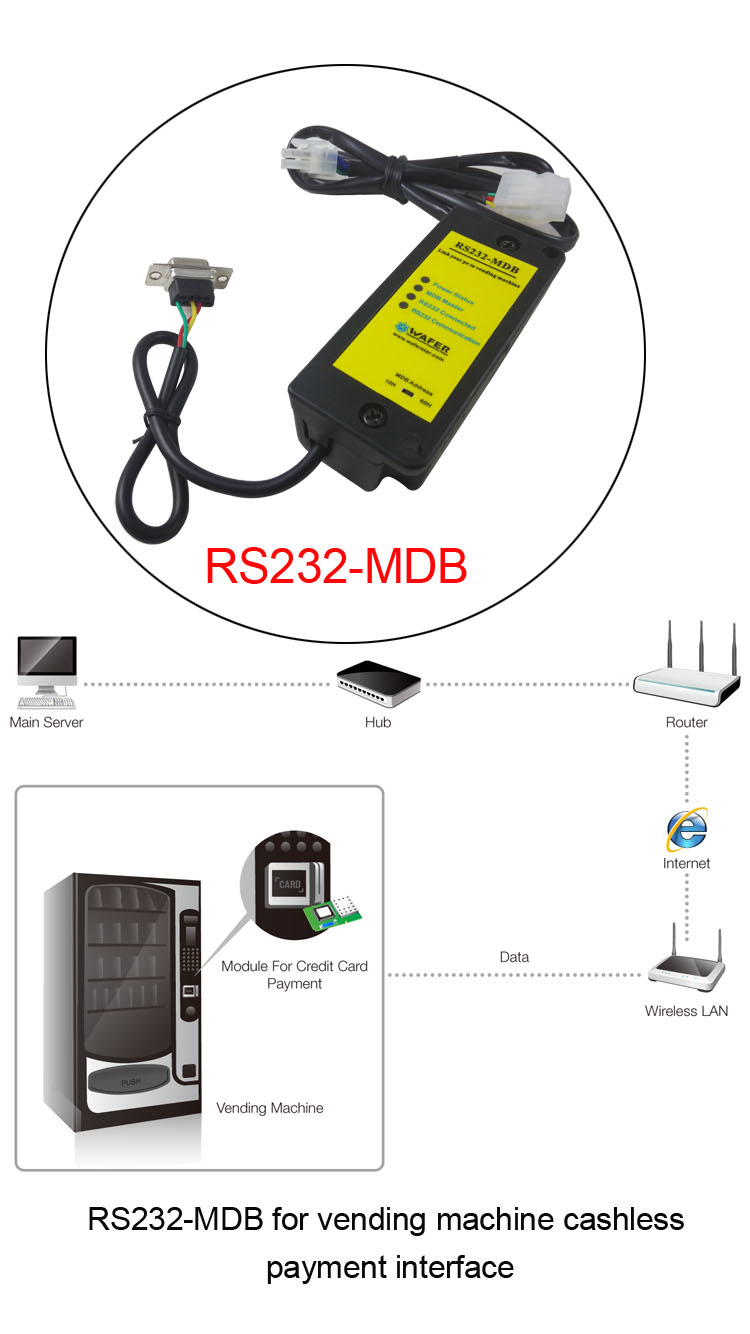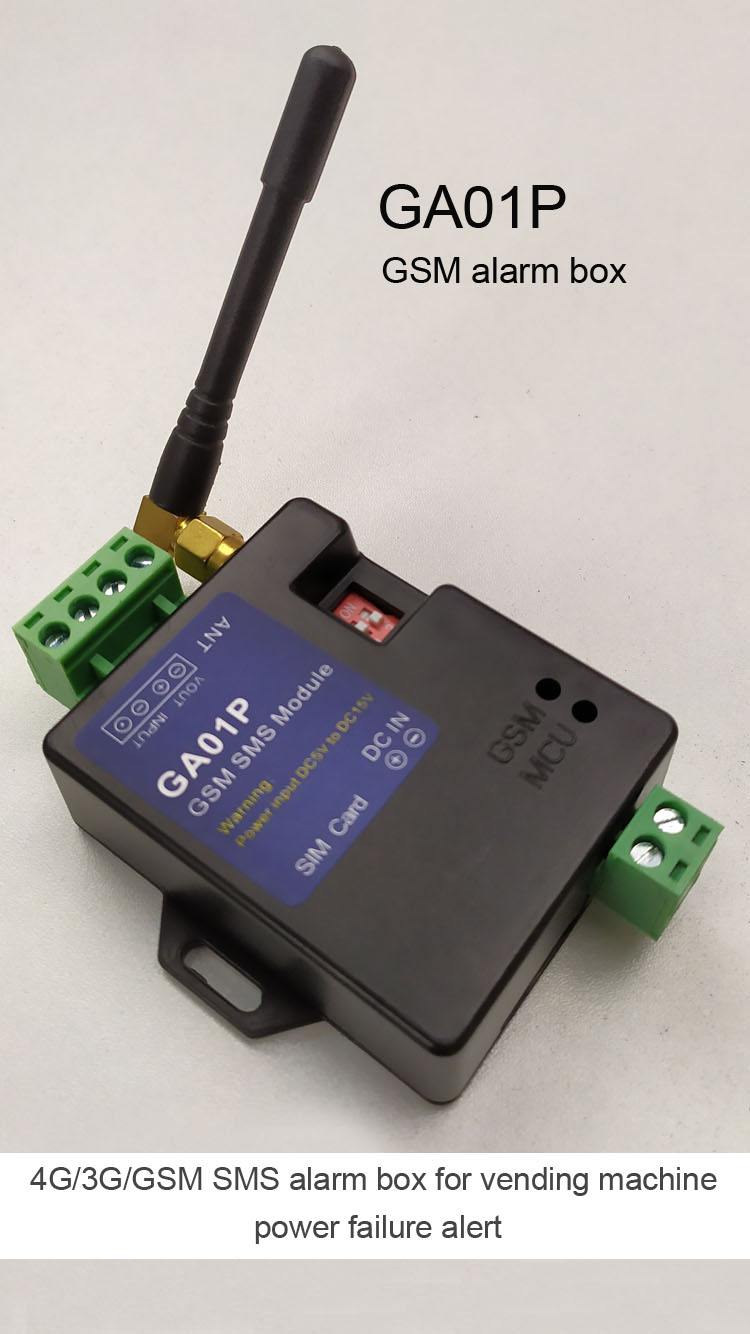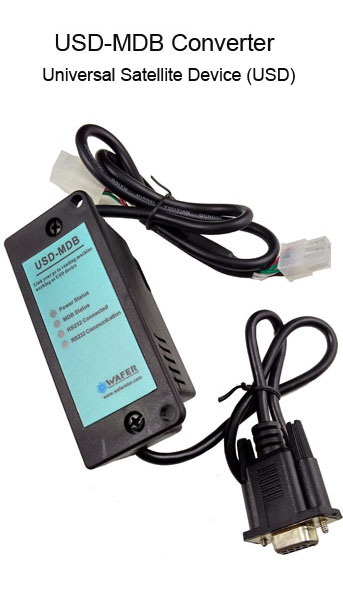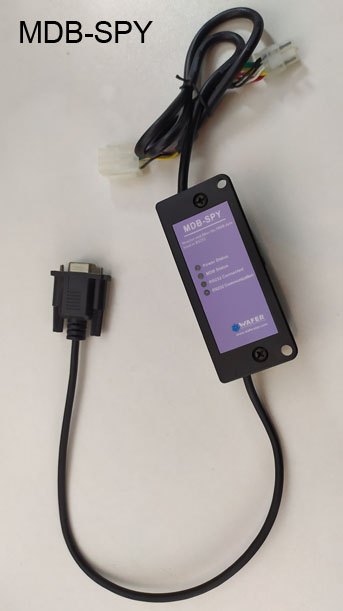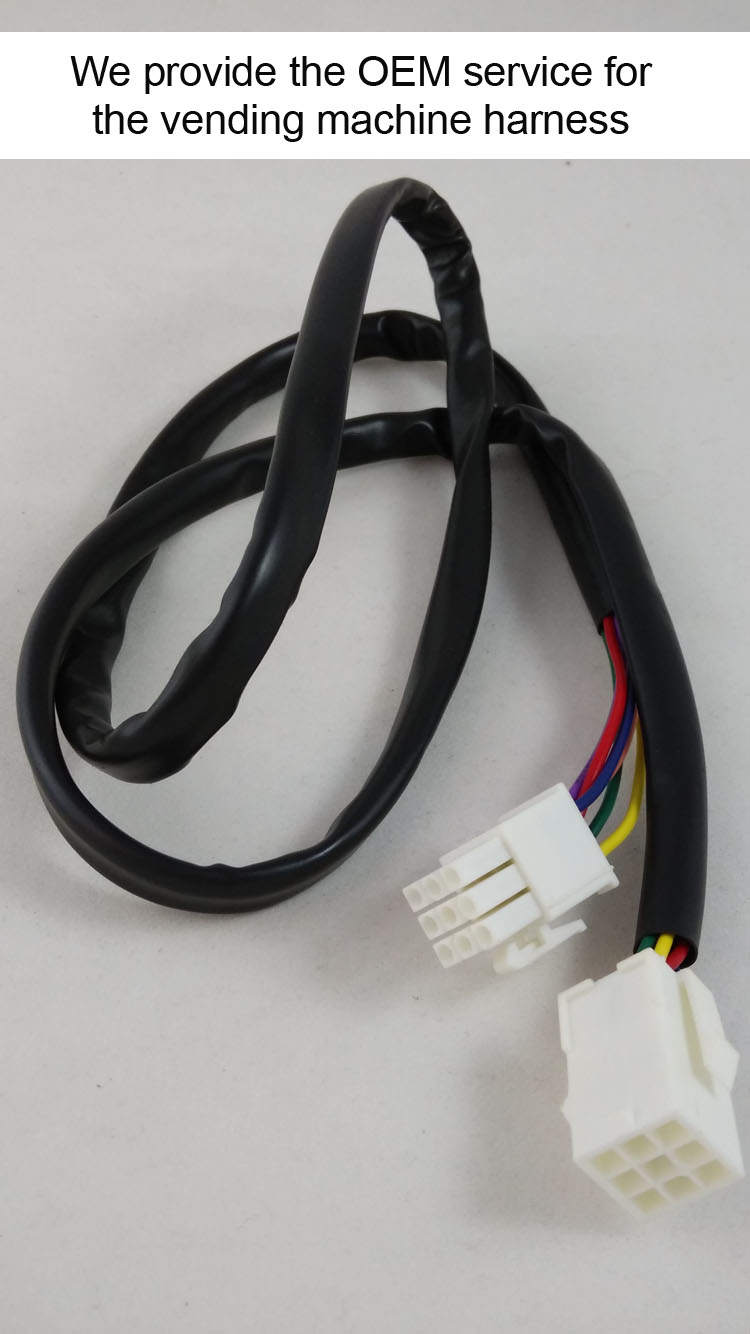 What Our Users Say's
---
See what our happy Customer say about RS232-MDB. We are proud to have our users.
Very easy to use, let us quickly complete the development of the vending machine. And it has been shipped in bulk. From R&D to shipment, it only took less than two months."

Rik Vermeer
User from India
"WAFERSTAR's technical support is very professional. We have used this device for more than 10 years."

Simon Brown
User from USA
"We trust WAFER very much, and we have been working together for more than 8 years. From the MDB-RS232 adapter, they continue to introduce new products and solve many problems for us. Including the cashless payment adapter we have ordered these days, it is very simple and applicable."

Nicola Jacques
User from Canada
"We met 10 years ago and WAFER's technical strength is very strong. They have been making this product for more than 10 years and it is stable, reliable."

Sven Scheinert
User from UK
RS232-MDB and Relative product
---
We have a series of related products available!
Frequently Questions and Answers
---
You can find the questions and answers of your interest here!
Subscribe to Newsletter
---
Subscribe to receive latest news, new features and updates.
About WAFERSTAR
---
Design experts in the field of vending payment products
WAFER Company is a specialist in vending system design and manufacture the MDB converter for more than 15 years. Since 2003,HUOBEI Powered by waferstar and designed the RS232-MDB adapter box and registered the brand for kiosk vending machine system application. After around 10 years in the field of MDB payment technology, and become the leading designer and manufacture of payment adapter in China. and also exported to many countries. Can provide self-service payment, comprehensive solutions for products in the field of vending machine systems.
MDB-RS232®,MDB2PC®,RS232-MDB®,PC2MDB® all are our registered brand. With rich experience in electronic product design and continuous design updates and upgrades, our products already have a good market sales and long-term operation guarantee, and have won the trust of customers at China and abroad market.
Our Company Contact Information
---
For Customer Support and Query, Get in touch with us.
Shanghai Wafer Microelectronics Co.,Ltd.
Room.23E,LiangFeng Building,
NO.8 DongFang Rd.
Pudong District
Shanghai ,China 220000
Telephone
(+86) 21 68458945, (+86) 21 50454820
Business Inquiries
wafer@waferstar.com